Vendor Information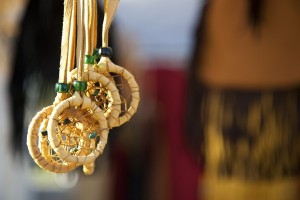 The Austin Powwow and American Indian Heritage Festival is the largest single day powwow in the country, and also has one of the larger Indian Markets. Crowds of up to 50,000 visitors provide vendors with the ideal opportunity to market their arts and crafts. The Austin Powwow also operates a large Food Court, and is always looking for potential native food vendors, especially those who serve a varied menu of traditional American Indian food items.
First time vendors who wish to participate send in an application to be on the waiting list. Exhibitors will be asked about the nature of their arts and crafts; whether the are Indian made; et cetera, and must send in color photos of their goods. The application is then reviewed by a committee for authenticity and appropriateness. If approved, potential exhibitors are notified and receive a formal invitation. After the September 1st deadline for previously invited vendors, Great Promise allocates space on the basis of date of receipt of a completed application and payment. The first application received gets the first available space; the second application received gets the second available space, and so on until we run out of booth spaces. The waiting list starts over each year, so vendors who respond promptly have a good chance of finding a space.
Once an exhibitor is accepted, he or she will continue to receive invitations to future powwows until they notify us that they no longer wish to participate. Every year we have openings due to retirements, so we do accept applications to be on the waiting list for a booth space.
If you are interested in becoming an exhibitor at the Austin Powwow, please contact Great Promise for American Indians, and request a waiting list application. If you send an email, be sure to describe your arts and crafts and provide us with your mailing address and a current telephone number.
Contact Sandy Duncan, Vendor Coordinator, as follows:
By telephone: (512) 371-0628
By email: powwow@grandecom.net